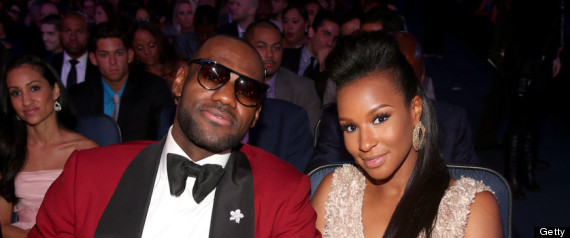 LeBron James and his high school sweetheart, Savannah Brinson will tie the knot this weekend.
Guests have not been told where the actual ceremony will be held or even the time. The invitations contain a "Mission Impossible" like theme. Guests will attend  the welcome barbeque on Friday and then get instructions how to attend the ceremony on Saturday. The New York Post is reporting that originally the guest list had almost 1000 people but LeBron wanted something smaller. LeBron popped the question to Savannah on New Years Eve 2011.
Congratulations guys!
LeBron James To Jump The Broom This Weekend
http://thegrio.files.wordpress.com/2012/01/savannah_brinson_lebron_james_1.jpg?w=325
http://cdn.styleblazer.com/wp-content/uploads/2013/07/wenn20516805.jpg
http://www.reviewjournal.com/sites/default/files/field/media/2013/07/savannah_brinson_070613.jpg
http://static1.businessinsider.com/image/4f074ec869bedd0647000018-1200/lebron-james-and-savannah-brinson.jpg
http://1-ps.googleusercontent.com/h/www.loopycomments.com/wp-content/uploads/2013/03/521x638xlebron-james.jpg.pagespeed.ic.34qhKMh-qD.jpg